Buckley's Nighttime Cough & Congestion
Get to sleep. And put your symptoms to bed.

It's lights out for your nighttime sickness. Get fast-acting relief from cold and flu symptoms such as dry, hacking coughs, sneezing, runny nose, and nasal congestion to help you get to sleep.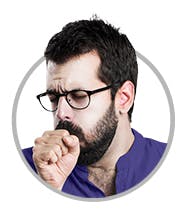 Adults and children 12 years and over: Take 2 to 3 teaspoons (10 to 15 mL) at or before bedtime. Do not take more than 4 doses (60 mL) in 24 hours. Children under 12: Do not use. If preferred, mix with equal parts honey.
Do not use with any other product containing diphenhydramine, even one used on skin.


Ask a doctor or pharmacist before use if you are pregnant or nursing, have glaucoma, have breathing problems such as emphysema or chronic bronchitis, have difficulty urinating, take sedatives or tranquilizers, take any other cough and cold medication.

When using this product drowsiness may occur; alcohol, sedatives and tranquilizers may increase drowsiness; do not engage in activities requiring alertness; avoid alcoholic drinks; excitability may occur, especially in children.

Stop use and ask a doctor if symptoms worsen or last for more than 7 days or cough is accompanied by a high fever (>38°) or the production of thick yellow or green mucus.

Keep out of reach of children. In case of overdose, call a poison control centre or get medical help right away. Keep and consult carton for important information before each use. Store at room temperature 15 – 25°C.

Security feature: Do not use if sealed carton ends are broken or torn.

Each teaspoonful (5 mL) contains: 22 mg menthol and 12.5 mg diphenhydramine hydrochloride.


Ammonium carbonate, camphor, Canada balsam, carrageenan, glycerin, pine needle oil, propylparaben, sodium cyclamate, tincture of capsicum and water.