Buckley's Original Mixture Nighttime
Get to sleep. And put your symptoms to bed.

It's lights out for your nighttime sickness. Get fast-acting relief from cold and flu symptoms such as dry, hacking coughs, sneezing, runny nose, and nasal and sinus congestion to help you get to sleep.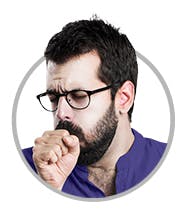 To be taken every 6 hours as required.
Adults and children over 12 years old: 2 to 3 teaspoons (10 to 15 mL) at or before bedtime
Do not exceed 4 doses daily. If preferred, mix with equal parts honey.
Do not use for longer than 7 days or exceed the single and maximum day dosage. Consult a doctor if symptoms worsen, last more than a week, or cough is accompanied by a high fever (>38° C) or the production of thick yellow/green phlegm. Consult a doctor prior to use if you have asthma or other chronic lung condition, glaucoma, or difficulty in urination due to enlargement of the prostate gland; or if elderly, pregnant or nursing. May cause drowsiness or excitability. Do not drive, drink alcohol beverages or engage in activities requiring mental alertness. In the case of accidental overdose, contact a doctor or Poison Control Centre immediately, even if there are no symptoms. Store at room temperature. Keep out of reach of children.

Security Feature: Do not use if sealed carton ends are broken or torn.


Each teaspoonful (5 mL) contains: 22 mg menthol and 12.5 mg diphenhydramine hydrochloride.


Ammonium carbonate, butylparaben, camphor, Canada balsam, carrageenan, glycerin, pine needle oil, propylparaben, sodium cyclamate, tincture of capsicum and water.