Buckley's Original Mixture
Relief comes to those who wait.
But for those who can't, there's Buckley's Original Mixture.
Can't stand another second of your symptoms? Feel the instant blast of cooling relief from coughs and congestion due to colds, minor bronchial irritations, laryngitis, hoarseness, croupy cough, sore throat pain, and minor irritations due to smoking, dust or air pollution.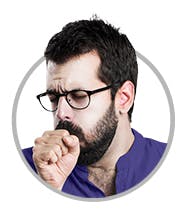 Do not take more than the recommended dosage. Adults and children 12 years and over: Take 1 to 2 teaspoons (5 - 10 mL) every 2-3 hours. Do not take more than 50 mL in 24 hours. If preferred mix with equal parts of honey.
Ask a healthcare practitioner before use if you are elderly, pregnant or breastfeeding; have heart, lung, kidney or liver disease, asthma; take any other medication.


Stop use and ask a healthcare practitioner if underlying condition requires continued use for more than 7 days, cough worsens or persists for more than a week, cough is accompanied by too much phlegm (mucus), you have a high fever or persistent headache, you develop a rash.

Keep out of reach of children. In case of overdose, call a poison control centre or get medical help right away. Keep and consult carton for important information before each use. Store at room temperature 15 – 25°C.

Security feature: Do not use if sealed carton ends are broken or torn.

Each teaspoonful (5 mL) contains: 153 mg ammonium carbonate, 267 mg potassium bicarbonate, 22 mg menthol, and 2.2 mg camphor.


Canada balsam, carrageenan, glycerin, pine needle oil, propylparaben, sodium cyclamate, tincture of capsicum and water.